Meet the Team
Program Leadership
Kerrie Carfagno has taught sustainable business and management communication courses with an emphasis on communication strategy, change management, leadership, ethics, and data visualization for more than 15 years. Carfagno is particularly interested in the financial and ethical impact of climate change on businesses at the industry, corporate, and societal levels. She focuses on how leaders can effectively communicate climate risk (and opportunity) to increase profitability, resiliency, and sustainability. She employed these concepts in her global sustainability elective courses and her study abroad courses to Scandinavia in partnership with DIS. Carfagno is also a senior fellow at Generation 180, a non-profit organization working to inspire and equip people to take action on clean energy.
Most recently, Carfagno developed and taught undergraduate courses for the McIntire School of Commerce at the University of Virginia (UVA) as well as graduate programs for UVA's M.S. in Global Studies, M.S. in Accounting, M.S. in Commerce program, and for their joint program with UVA's Darden Business School for their M.S. in Business Analytics program. She also taught for the McIntire Business Institute's sustainability certificate program in addition to teaching and leading global sustainability classes and executive education content for UVA's McIntire and Darden schools. Before joining UVA in 2014, Kerrie taught sustainability-focused business courses at John Carroll University, the University of Alberta, and Penn State University. She earned her Ph.D. in Values-Driven Leadership (with a focus on sustainability and ethics) and, in the process, was an Aspen Institute Scholar at their 2011 Environment Forum.
This past fall, Kerrie founded and hosted the McIntire School of Commerce's inaugural Blue Ridge ESG Seminar to enable students to learn directly from industry leaders—particularly on the environmental challenges and risks facing businesses.
Peter Marra
Academic Co-Director, MS-ESM
Peter P. Marra is the dean of Georgetown's Earth Commons Institute for the Environment and Sustainability and Laudato Si' Professor of Biology and the Environment. Marra uses birds to help us define and understand broad environmental issues, tackling contemporary conservation challenges by addressing fundamental knowledge gaps at the intersection of ornithology, ecology, and conservation biology. His transformative work—including quantifying the loss of 3 billion birds from North America, the impacts of climate change, the astounding ecological destruction of outdoor cats, and emerging diseases such as West Nile virus—explores the interaction between humans and our environment and poses critical questions to humanity about the environmental costs of urbanization and globalization. His work spans biology, engineering, physiology, and biogeochemistry, and has helped ignite new research into the study of full life cycles of migratory animals while furthering technological advances, including the use of genetics, stable isotopes, and remote tracking technologies.
With over 260 peer-reviewed papers, Marra uses integrative techniques and rigorous quantitative approaches, leveraging data to link fundamental ecological advances to address conservation problems and reimagine approaches that inform policy. Over 55 current and former students and his position as founding director and dean of the Earth Commons demonstrate Marra's dedication to moving research to implementation and educating the next generation of diverse scientists.
Vishal Agrawal is Henry J. Blommer Family Endowed Chair in Sustainable Business and Professor of Operations at the McDonough School of Business. He is also the academic director for the Business of Sustainability Initiative, MBA Certificate on Sustainable Business, and the undergraduate Sustainable Business Fellows Program.
Agrawal teaches courses related to sustainable business and operations at all levels. He has received several awards for his teaching including MBA Excellence in Teaching Award (2020) and Poets & Quants Top 40 under 40 MBA Professor (2020). He also serves on the editorial boards of several leading journals, including as an associate editor for Manufacturing and Service Operations Management and as a department editor for Production and Operations Management.
Agrawal's main research focus is sustainable operations, focusing on managerial challenges at the interface of business and the environment. His research interests and expertise extends across a variety of topics related to the role of businesses in addressing sustainability challenges such as circular economy, business model innovation, renewable energy, product development, supply chain sustainability and consumer behavior. His research has appeared in leading journals such as Management Science and M&SOM, and has received several awards.
Program Staff
Christe Fraser
Assistant Director, Career Management, MS-ESM
Christe Fraser supports all aspects of MS-ESM student career development including identifying career paths and career goals, developing effective networking strategies, and interviewing with confidence. She has most recently worked in non-profit, biotechnology, and with the EPA, Region III in areas of environmental sustainability and public health. She has a Bachelor of Science from Howard University and a Master of Public Health from Drexel University School of Public Health. Her areas of interest include: global health, environmental policy, social impact, international development, health & wellbeing and circular economy.
Lindsey Jamieson
Associate Director of Marketing and Recruitment, MS-ESM
Lindsey Jamieson is the Associate Director of Marketing and Recruitment for the MS-ESM program. She manages all marketing and outreach initiatives to connect with prospective students and promote awareness for the program on a domestic and international scale. Prior to starting her role at Georgetown University, Lindsey worked as the Assistant Director of the Portuguese Flagship Program (PFP) at the University of Texas at Austin where she managed study abroad programs to Brazil through the Language Flagship Initiative. Before pursuing a career in academia, she worked in Public Relations and the Entertainment/Advertising industry in NYC. She received her B.A. in Political Science and Spanish with a Certificate in Portuguese from the University of Pittsburgh (2014) and her M.A. in Advertising from the University of Texas at Austin (2022).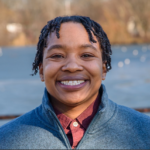 Seneca Lee,
Program Coordinator, MS-ESM
Seneca Lee plays an active role in fulfilling all academic and administrative responsibilities to support students, applicants, and faculty within the MS-ESM program. She helps administer all day-to-day and on-the-ground activities by working closely with graduate students, collaborating with the program co-directors, and acting as a liaison in connecting MS-ESM students with a wide variety of University resources. Prior to Georgetown, Seneca worked in a variety of sectors maintaining her passions for education, the environment, and justice. Seneca received her Master of Science in Environment and Sustainability from the University of Michigan where she studied urban agriculture and soil remediation.
Student Ambassadors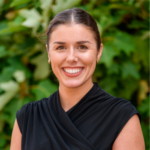 Chloe Carton
Hailing from Ireland, Chloë completed her Bachelor of Commerce with University College Dublin in 2015. 8 years in the Tech Sales industry brought with it plenty of experiences, but it was while living in Australia that the impact of climate change and the importance of sustainability really came to life. She chose the MS-ESM program because of its approach to tackling environmental issues and hopes to combine her business experience with education to help organizations build a more sustainable future. She's excited to pivot her career in this area and is keen to talk to prospective students who are interested to learn more what student life is like!
Ricardo Pereira Teixeira
Ricardo Pereira Teixeira is one of the student ambassadors for the MS-ESM program. He supports outreach initiatives, promotes the program, and provides prospective students with resources about the program's curriculum and life at Georgetown. Before starting the Master's program and student ambassador role, Ricardo worked as a Financial Consultant at APG in the Netherlands, where he worked implementing the new Dutch Pension Law and responsible investing guidelines. He received his B.A. in International Studies and B.Sc. in Security Studies at Leiden University in the Netherlands, where he focused on climate change mitigation and energy security.