Meet the Team
Program Leadership
Vishal Agrawal, M.S., Ph.D.
Academic Co-Director, MS-ESM
Vishal Agrawal is Provost's Distinguished Associate Professor and Lapeyre Family Associate Professor at the McDonough School of Business. He is also the academic director for the Business of Sustainability Initiative, MBA Certificate on Sustainable Business, and the undergraduate Sustainable Business Fellows Program.
Agrawal teaches courses related to sustainable business and operations at all levels. He has received several awards for his teaching including MBA Excellence in Teaching Award (2020) and Poets & Quants Top 40 under 40 MBA Professor (2020). He also serves on the editorial boards of several leading journals, including as an associate editor for Manufacturing and Service Operations Management and as a department editor for Production and Operations Management.
Agrawal's main research focus is sustainable operations, focusing on managerial challenges at the interface of business and the environment. His research interests and expertise extends across a variety of topics related to the role of businesses in addressing sustainability challenges such as circular economy, business model innovation, renewable energy, product development, supply chain sustainability and consumer behavior. His research has appeared in leading journals such as Management Science and M&SOM, and has received several awards.
Maria Petrova, M.A., Ph.D.
Academic Co-Director, MS-ESM
Maria A. Petrova joined Georgetown's Earth Commons Institute (formerly the Georgetown Environment Initiative, or "GEI") in 2019 to develop and launch the MS-ESM program. Before Georgetown, she managed a UMass Boston-based transdisciplinary NSF IGERT "Coasts and Communities" program dedicated to training Ph.D. and master's degree students with different academic backgrounds to become future environmental leaders. Previously she worked in academia outside of the United States – in Greece and Bulgaria – in the offices of development, alumni relations, admissions, recruitment, and marketing.
Petrova completed her Ph.D. in Environmental Science at Oregon State University, where she focused on examining public opinion on a nascent policy issue – the introduction of wave energy in the state of Oregon. Subsequently, she completed a two-year postdoctoral research fellowship at Tufts University's Fletcher School of Law and Diplomacy on public acceptance of wind energy in Massachusetts. Maria publishes extensively on public perceptions of renewable energy in the US and in Eastern Europe. She has taught courses on environmental policy and politics, sustainability, climate change, human geography, and communications at Oregon State University, Emerson College, and the US Fulbright Program in Bulgaria. Petrova serves as a section co-editor of the UC Press journal Case Studies in the Environment, and is an Associate of Harvard University's Davis Center for Russian and Eurasian Studies.
A native of Bulgaria, she enjoys learning about cultural differences firsthand through reading and traveling with her husband and two daughters.
Program Staff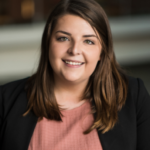 Sofia Espino-Yaeger
Senior Assistant Director, Marketing and Recruitment, MS-ESM
Sofia Espino-Yaeger supports the management and implementation of the marketing and recruitment strategy for the MS-ESM program. She's been at Georgetown since 2019, previously within the MBA Admissions team. Prior to Georgetown, she worked in the nonprofit sector focusing on marketing and event planning. Espino-Yaeger received a B.A. in arts administration from the University of Kentucky.
Christe Fraser
Assistant Director, Career Management, MS-ESM
---