Meet the Team
Program Leadership
Maria Petrova, M.A., Ph.D.
Academic Co-Director, MS-ESM
Maria A. Petrova joined Georgetown's Earth Commons Institute (formerly the Georgetown Environment Initiative, or "GEI") in 2019 to develop and launch the MS-ESM program. Before Georgetown, she managed a UMass Boston-based transdisciplinary NSF IGERT "Coasts and Communities" program dedicated to training Ph.D. and master's degree students with different academic backgrounds to become future environmental leaders. Previously she worked in academia outside of the United States – in Greece and Bulgaria – in the offices of development, alumni relations, admissions, recruitment, and marketing.
Petrova completed her Ph.D. in Environmental Science at Oregon State University, where she focused on examining public opinion on a nascent policy issue – the introduction of wave energy in the state of Oregon. Subsequently, she completed a two-year postdoctoral research fellowship at Tufts University's Fletcher School of Law and Diplomacy on public acceptance of wind energy in Massachusetts. Maria publishes extensively on public perceptions of renewable energy in the US and in Eastern Europe. She has taught courses on environmental policy and politics, sustainability, climate change, human geography, and communications at Oregon State University, Emerson College, and the US Fulbright Program in Bulgaria. Petrova serves as a section co-editor of the UC Press journal Case Studies in the Environment, and is an Associate of Harvard University's Davis Center for Russian and Eurasian Studies.
A native of Bulgaria, she enjoys learning about cultural differences firsthand through reading and traveling with her husband and two daughters.
Vishal Agrawal, M.S., Ph.D.
Academic Co-Director, MS-ESM
Vishal Agrawal is Henry J. Blommer Family Endowed Chair in Sustainable Business and Professor of Operations at the McDonough School of Business. He is also the academic director for the Business of Sustainability Initiative, MBA Certificate on Sustainable Business, and the undergraduate Sustainable Business Fellows Program.
Agrawal teaches courses related to sustainable business and operations at all levels. He has received several awards for his teaching including MBA Excellence in Teaching Award (2020) and Poets & Quants Top 40 under 40 MBA Professor (2020). He also serves on the editorial boards of several leading journals, including as an associate editor for Manufacturing and Service Operations Management and as a department editor for Production and Operations Management.
Agrawal's main research focus is sustainable operations, focusing on managerial challenges at the interface of business and the environment. His research interests and expertise extends across a variety of topics related to the role of businesses in addressing sustainability challenges such as circular economy, business model innovation, renewable energy, product development, supply chain sustainability and consumer behavior. His research has appeared in leading journals such as Management Science and M&SOM, and has received several awards.
Program Staff
Christe Fraser, MPH
Assistant Director, Career Management, MS-ESM
Christe Fraser supports all aspects of MS-ESM student career development including identifying career paths and career goals, developing effective networking strategies, and interviewing with confidence. She has most recently worked in non-profit, biotechnology, and with the EPA, Region III in areas of environmental sustainability and public health. She has a Bachelor of Science from Howard University and a Master of Public Health from Drexel University School of Public Health. Her areas of interest include: global health, environmental policy, social impact, international development, health & wellbeing and circular economy.
Lindsey Jamieson
Associate Director of Marketing and Recruitment, MS-ESM
Lindsey Jamieson is the Associate Director of Marketing and Recruitment for the MS-ESM program. She manages all marketing and outreach initiatives to connect with prospective students and promote awareness for the program on a domestic and international scale. Prior to starting her role at Georgetown University, Lindsey worked as the Assistant Director of the Portuguese Flagship Program (PFP) at the University of Texas at Austin where she managed study abroad programs to Brazil through the Language Flagship Initiative. Before pursuing a career in academia, she worked in Public Relations and the Entertainment/Advertising industry in NYC. She received her B.A. in Political Science and Spanish with a Certificate in Portuguese from the University of Pittsburgh (2014) and her M.A. in Advertising from the University of Texas at Austin (2022).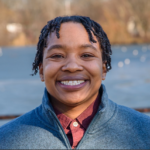 Seneca Lee,
Program Coordinator, MS-ESM
Seneca Lee plays an active role in fulfilling all academic and administrative responsibilities to support students, applicants, and faculty within the MS-ESM program. She helps administer all day-to-day and on-the-ground activities by working closely with graduate students, collaborating with the program co-directors, and acting as a liaison in connecting MS-ESM students with a wide variety of University resources. Prior to Georgetown, Seneca worked in a variety of sectors maintaining her passions for education, the environment, and justice. Seneca received her Master of Science in Environment and Sustainability from the University of Michigan where she studied urban agriculture and soil remediation.
Student Ambassadors
Kaylen Chung,
Student Ambassador, MS-ESM
Kaylen Chung is an international student from Taipei, Taiwan. She received her undergraduate degrees in Advertising and French from Penn State in 2017. Before starting the MS-ESM program, Kaylen had a career in public relations, where she led branding and marketing projects for the private and public sectors. She has lived in Taiwan and the US throughout her life and enjoyed her time studying abroad in Paris and traveling across Europe. Her interest in culture and nature has helped her become curious about how humans interact with our environment, which ultimately sparked her passion for sustainability. Kaylen joined the MS-ESM program to be part of the global Georgetown community and learn how to integrate science and business principles with her cohort to build a more sustainable future. She enjoys chatting with prospective students to learn about their interests and aspirations and guide them through the program's curriculum. Representing one of the 20 countries in the first cohort, Kaylen is excited to welcome another diverse MS-ESM cohort.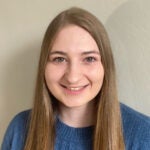 Eleni Orfanos,
Student Ambassador, MS-ESM
Eleni Orfanos graduated from American University with a B.A. in International Studies with a concentration in Sustainability as a part of the three-year honors BA program called Global Scholars. She is originally from Westchester, New York and is also a dual citizen of the United States and Ireland. Prior to joining the MS-ESM Program, she interned at the Department of Justice as a law clerk specializing in environmental crimes and at the National Aeronautics and Space Administration as a management analyst researching climate change projects. While in the MS-ESM Program, she completed a second internship at the Department of Justice working as a paralegal assistant specializing in maritime law. Outside of her studies, Eleni is involved on campus with the Energy & CleanTech Club, Government & Business Alliance, and Policy Debate Team. Eleni chose the MS-ESM Program because the curriculum's combination of environmental science and business principles will allow her to build upon the international perspective to sustainability that she developed during her undergraduate studies. Her future goal is to work as a lawyer specializing in environmental and energy law. She enjoys speaking with prospective students about her experience in the MS-ESM program and helping them navigate the application process."